Feel free to share D&D character art or other D&D related artwork that you've made here!
(Works in progress are fine too!)
If it's art that someone else made, or art that you edited of someone else's work please credit that person if you can or at least let us know that it wasn't you that made it originally.
(Art theft is not cool, and makes you look like a jerk.)
To start things off I'll post a sneak peek at some art I am drawing currently of my water genasi warlock. It's a work in progress, but it's starting to look pretty cool so far. I still need to finish drawing/adding some parts, and doing the coloring/shading, as well as doing a background. I am very new to digital drawing still, so learning a lot since I am used to traditional work. This is just the sketching I have done so far. I put watermark text over the line art, just in case someone tries to steal her haha, so the writing won't be there when it's done.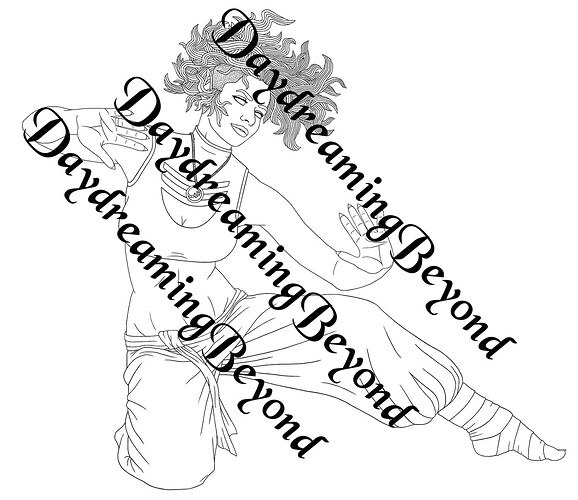 Her name is Kai Storm Bringer (Surname Arrn'ess in elvish). Her father is a noble genie and her mother is a sea elf. Her father is also her warlock patron (genie patron with pact of the talisman) in our campaign. She is the pilot of our crew on our spelljammer ship, and she is also a scholarly type that does really cool water/cold themed magic.
Kai is going to have light powder blue skin with silvery scales in barely there wave-like patterns, neon blue hair with mint green streaks, and completely black eyes (no white area). Her clothes will be purples, blues, and greens with black. It will be similar to the rainbow look of an oil slick. I will post another picture to this thread once I am all the way finished working on her, but it could take a while since I am disabled and I'm in a lot of pain most days.